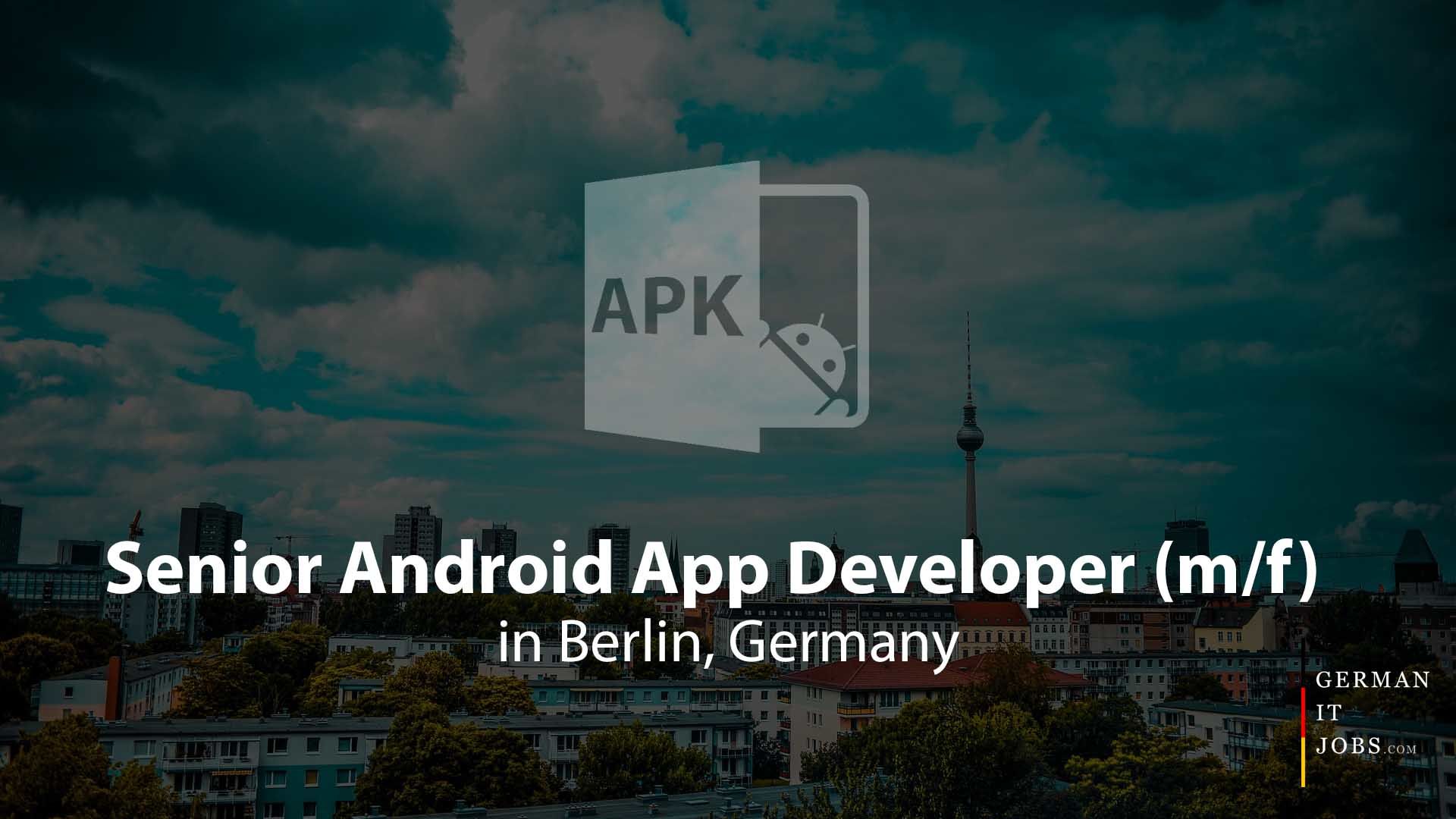 © Karl Lorey, license: all rights reserved, source: German IT Jobs
Job closed: No problem, below are the most similar jobs still waiting for your application.
Senior Android App Developer (m/f)
Senior Android App Developer (m/f)
Our group is one of the world's leading online food delivery marketplaces, headquartered in Berlin, Germany and operating in 22 emerging markets in Asia, the Middle East and Eastern Europe. The company employs more than 2,000 people worldwide, of which approximately 200 work in Berlin with more than 40 countries represented. We very proud of our accomplishments in the last years, mainly because we have a great team spirit. Working in the Internet and Multimedia industry it is very important for us to source the best candidates on a global scale. Our international team is very dynamic, open minded and we love to tackle challenges together. We are constantly expanding in our markets and therefore we are looking for a Senior Android App Developer (m/f) to join our great team in the capital of Germany, Berlin city!
What we offer
Responsibility from day one in a fast growing and global company
Health Insurance for you and your family (Mandatory in Germany)
A vibrant and international team
A yearly education budget for every employee
Regular company and team events
Free language classes and sport activities
Modern and spacious office in the heart of Berlin
26 paid vacation days
Drinks, fresh fruits and cereals
Relocation
Since we have a wide experience with foreign developers coming to Germany, you will have a budget for relocation and we will pay your tickets to come to Germany. German IT Jobs will support you throughout the whole process and will help you to make the transition as smooth as possible.
Your main tasks
you will work with our global product team in Berlin developing and designing mobile applications for android devices
you will take responsibility for your work and your tasks
you will optimize and maintain our already in place app
you will support us with your fresh ideas to use state of the art technologies to improve our services
and last but not least, you will have a whole lot of fun with the team
what we are looking for
you have a finished technical university degree in physics, mathematics or computer science
you are a structured thinker and have a quick learning ability
you have an extensive professional knowledge of Java; optional C/C++ with Eclipse plus ADT or the IntelliJ Android Studio
you have a passion for elegant designs and experience with iOS or Windows Phone is a strong plus
Bonus if you
consider with programming in PHP or Linux
Your new home town Berlin
With its 3,5 million inhabitants, Berlin is Germany's biggest city and also its capital. The great amount of young people, foreigners and entrepreneurs make Berlin a very vivid and wild city. Berlin holds a very flexible and open-minded working environment, attracting those named above. As a result, Berlin is considered to be the most vigorous start-up city in Europe. This includes a huge variety of information and communication technology oriented firms which significantly contribute to Berlin's industrial success. Although Berlin is one of the biggest cities in Europe, it's key-districts are well connected by a great offer of public transport, cycling roads, and a foot passenger friendly infrastructure. Compared to other German cities the cost of living in Berlin is rather low. Where Munich, Frankfurt am Main and Stuttgart make up the three most expensive German cities, Berlin has an average renting price of 657€ per month for a small but central apartment. It's rich history during and after the second world war created many sights and attractions, making Berlin a hotspot for those interested in Russia's, British', America's and Germany's shared history. In addition to Berlin's strong cultural heritage it also offers a broad variety of evening- and nightlife, including many bars and clubs but also holding various restaurants, theaters and concerts.
You can find MORE INFORMATION about cost of living and the city Berlin  after your registration in our backend.
Next Steps:
You apply here on German IT Jobs
We check your CV and your background
We send you a coding Test
You will have  a Quick Call with the company
You will have a long Tech Call with the tech team
You will have an Interview with the CTO or the Team Lead
The (m/f) abbreviation stands for male or female and we have to mention this in every job description that we are not discriminating anyone who applies for these positions based on their sex.
Your place of work
Find out about the job's city and where you're going to live.

Berlin
Berlin, Germany's capital, dates to the 13th century. Nowadays, it's home to a thriving startup scene on eye-level with other cities worldwide. Berlin not only Germany's biggest city and capital, but also Germany's most vibrant and open city with a lot of expats and English-speaking people from all over the world. Perfect for internationals and as a first step when relocating to Germany.
Similar jobs
Not the perfect job for you?
The following opportunities could be your perfect match.
Sorry, no similar jobs at the moment.
It's too late...
Sorry, the application deadline is already over. Sign up to get informed about open positions first and never miss a job again.
Job Facts short and efficient - how Germans like it
Location
Berlin
Region
Berlin
Category
Startup
Employment
full time
Work-week
35 - 40h
Employment start
ASAP
Salary
negotiable
Relocation
several relocation benefits, see description
Language
English or German
Posted
4 years, 4 months ago
Closing in
0 minutes
Any questions left?
Ask our recruiter below for details!
Nothing found?
Filter differently and find your dream job
Jobs by Technology
Looking for a job with a specific technology? Here are our most-wanted technologies.
Jobs by Programming Language
These are our jobs filtered by programming language. Choose your stack, choose your destiny.
Jobs by Region
Already have a specific region/city in Germany in mind? Then check our most popular areas.
or see all regions
Don't miss your dream job!
Join 2000+ developers getting new jobs via their preferred platform.